2021 Best Pedestrian Entrance Control
Automatic Systems SlimLane Honored with 2021 "ASTORS" Platinum Homeland Security Award. 
---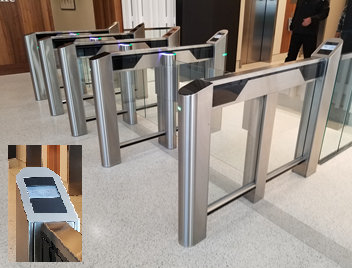 New York City, ISC East, Nov. 17, 2021 — Automatic Systems announced it is the recipient of a 2021 BEST PEDESTRIAN ACCESS CONTROL 'ASTORS' Homeland Security Award from American Security Today for the adaptability of their SlimLane speed gate turnstile.
American Security Today's Annual 'ASTORS' Awards is the preeminent U.S. Homeland Security Awards Program, and today in its Sixth Year, continues to recognize industry leaders of Physical and Border Security, Cybersecurity, Emergency Preparedness – Management and Response, Law Enforcement, First Responders, as well as federal, state and municipal government agencies in the acknowledgment of their outstanding efforts to Keep our Nation Secure.
The Annual 'ASTORS' Awards Program is specifically designed to honor distinguished government and vendor solutions that deliver enhanced value, benefit, and intelligence to end-users in a variety of government, homeland security, enterprise, and public safety vertical markets.
"'ASTORS' nominations are evaluated on their technical innovation, interoperability, specific impact within the category, overall impact to the industry, relatability to other industry technologies, and application feasibility outside of the industry," said AST's Publisher, Michael J. Madsen.
Automatic Systems' SlimLane speed gate turnstile continues to offer customized solutions to meet and exceed customer requirements. The variety of speedgate cabinets ranging from the sleek standard unit, then evolving to the SlimLane EP model or the rounder SlimLane EPR. Larger biometric peripherals such as facial recognition and frictionless finger printing offer contactless alternatives to proximity readers and can easily be integrated within the SlimLane EPW or NK cabinets.
Automatic Systems has been designing and manufacturing pedestrian and vehicle entry control equipment for over 50 years.
---