Passenger Products
Automatic Systems is in a position to provide metro operators, major integrators and engineering companies with:
A specific range of products for specialised applications, such as Public Transport,
A high engineering content required to customize specific products,
A project feasibility specifications and analysis,
A specific detection control technology,
A project management to provide services other than usual for installation and maintenance.
Download our portfolio: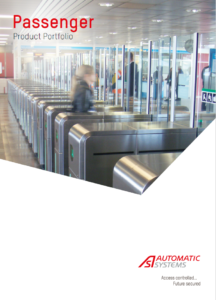 ---
A complete range of highly reliable automatic access control gates designed for and to the specific needs of public transport customers.
Able to integrate every kind of ticketing system, equipped with the latest communication modules, thus open to network with overall information systems.
Automation of controls at frontiers enhances security and eliminates queuing.
Automatic Systems proposes products which are ready for the integration of biometric and electronic passport readers: SmartLane ABC single gate or SNG double gates, equipped with the ASDAS one-person-only detection system.
The automation of controls reduces operating costs and enhances security, consistent with improving the flow of passengers and increasing their satisfaction.
Automatic Systems proposes automatic boarding gates (SpeedBoarding, QBG/SBG), gates for secured access to restricted zones (SmartLane SECAP) and anti-reflow doors (PAS).