Perimeter Access
Automatic Systems has a wide range of automatic vehicle gates to control the access to your site, whether it is private, industrial or commercial… According to throughput, required level of security, and conditions specific to your installation, we will find the best solution.
Download our overview table concerning our Perimeter Access Products: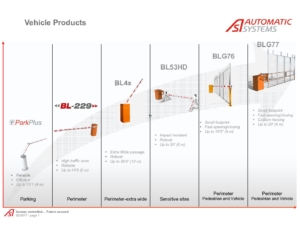 Compare your products:
Select up to 3 products to learn more about their features and strengths.
Rising Fenced Barriers
Medium-Length Barriers
The highly configurable medium-length barriers meet the latest requirements for access control.
High performance
Up to 20 ft (6 m)
Extra-long Barriers
These extra-long barriers are able to close very wide roads, in particular for industrial sites. These very robust barriers are also able to support multiple  accessories.
Security Barriers
These security barriers are equipped with robust mechanics and vandalism resistant gate arms able to prevent forced entry attempts. They are therefore recommended for sensitive sites where a high level of security is required.